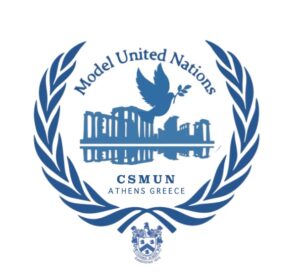 Please note that this is a provisional agenda which means it is possible for it to change.
General Assembly Committees:
DISARMAMENT and INTERNATIONAL SECURITY COMMITTEE (GA 1)
Combating the rise of terrorist activity in Sub-Saharan Africa.
The militarisation of the Arctic Region.
SOCIAL, CULTURAL AND HUMANITARIAN COMMITTEE (GA 3)
Eradicating the use of torture as a means of interrogation.
Improving accessibility and the inclusion of persons with disabilities in urban areas.
SPECIAL POLITICAL AND DECOLONISATION COMMITTEE (GA 4)
The question of Puerto Rico.
Assessing the global consequences of the Belt and Road Initiative.
LEGAL COMMITTEE (GA6)
Evaluating the legal status of Jerusalem on a long-term scale.
Rethinking universal standards for the treatment of prisoners.
Non-GA Committees:
SPECIAL CONFERENCE ON THE ENVIRONMENT: SUSTAINING MOTHER EARTH (SPECON)
The question of environmentally sustainable transportation systems.
Ameliorating biodiversity in Australia after the 2019 wildfires.
SECURITY COUNCIL (SC)
Addressing the threat of uncontrolled refugee influx .
Empowering stability in the Sahel region.
WORLD HEALTH ORGANIZATION (WHO)
Addressing the widespread outbreak of zoonotic viruses.
The rise of Opioid and Prescription Drug Addiction.
ECONOMIC AND SOCIAL COUNCIL (ECOSOC)
Eliminating "brain drain" from developing nations.
Ensuring Accessible Water and Discussing the Commercialisation of Water.
ENVIRONMENTAL COMMISSION (EC)
Measures to abolish single-use plastics from the market.
 The question of the role of Veganism and reduced meat consumption in protecting the environment .
HISTORICAL SECURITY COUNCIL (HSC)
Cyprus 1974
INTERNATIONAL COURT OF JUSTICE
LaGrand (Germany v. United States of America)
INTERNATIONAL CRIMINAL COURT (ICC)
The Prosecutor v. Joseph Kony and Vincent Otti
FORENSICS JUNIOR GROUP DISCUSSION (FJGD)
TOPIC 1: Measures to abolish single-use plastics from the market
TOPIC 2: Improving Accessibility and the Inclusion of Persons with Disabilities in Urban Areas