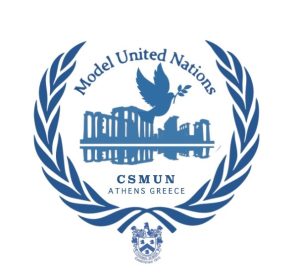 Campion's MUN programe was founded in 2012 and has grown into an annual event which attracts a large and diverse number of participants, from Greece and abroad.
Campion School recently celebrated its 10th annual CSMUN on 8th & 9th October 2022. It was a very well-attended event which highlighted the importance of collaboration and goodwill in solving problems at every level.
For a summary of the 2022 conference click on the link below:
The CSMUN Newsletter 2022 Conference
About CSMUN:
CSMUN has been honoured to have hosted many prominent guest speakers at our annual events, including ambassadors, diplomats, heads of NGOs and government ministers. In 2017, we were honoured to receive the below letter from António Gutteres, the Secretary-General of the United Nations since 2017.
The 2022 MUN included guest speakers Deputy Head of Mission of the British Embassy, Athens, Ms Susan Geary, and Glykeria Arapi, Director of the Greek Section of Amnesty International.
G Theoharopoulou
CSMUN Organiser
Organising Committee
The Secretariat: munsecretariat@campion.edu.gr
Head Organiser/MUN Director: G.Theoharopoulou gtheo@campion.edu.gr
Co-Head Organiser: H. Salter hsalter@campion.edu.gr
Youth Assembly: V.Bodington vbodington@campion.edu.gr