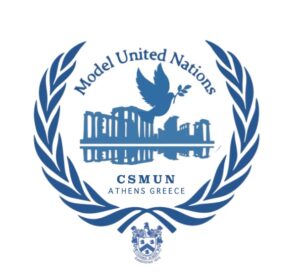 Secretariat:
SECRETARY GENERAL: Alexia Vogdanos (Campion School)
DEPUTY SECRETARY GENERAL: Dimitris Alexopoulos (Campion School)
PRESIDENT: Harry Ioannou (Ekpedeftiki Anagennisi School)
DEPUTY PRESIDENT: Katerina Tsenekou (Campion School)
***
UNDER-SECRETARY-GENERAL:John Katsikis (Campion School)
If you wish to find out more about the CSMUNVIII Secretariat, view our Meet the Secretariat page.
Student Officers:
To be announced when Student Officer Applications close. To apply to be a Student Officer, please visit our Student Officer Application page!