Dear Model United Nations Adviser,
It is our distinct pleasure to invite you to the eighth session of the Campion School Model United Nations (CSMUN) in Athens, Greece.
CSMUN is a two-day conference that will be held on Saturday 3rd and Sunday 4th October 2020.
Once more, we will be welcoming students and advisers from across the globe to take part in an enlightening and unforgettable Model United Nations experience. Our conference encourages quick thinking and problem solving, and allows new participants to gain a first-hand opportunity of debate and practise their public speaking, as well as giving devoted MUN participants a platform to shine. CSMUN is a great first conference for Model United Nations teams that are looking for a comfortable and supportive environment.
We are pleased to advise you of the wide selection of committees that we will be offering again this year alongside new experiences. In addition to the General Assembly, we will be running specialised committees, including a selection of agency simulations that are not officially part of the United Nations but play a major role in global politics – such as the International Criminal Court, in which certain persons, accused of crimes against humanity, are put on trial. Our Special Conference will be centred on the important global issue of the Environment: Sustaining Mother Earth. Topics for all committees have been chosen to reflect recent political issues in order to engage students with the world around them and encourage them to research extensively and analyse their respective country's policies and political relations. We are certain that each committee will allow both novice and experienced participants to put their skills to good use and expand their knowledge of the world around them, not only through the chosen topics but also by cooperating with other participants from around the world.
For more information on our conference, please visit our Conference Information page.
The delegate/chair/advocate/judge fee for CSMUN VIII is €50. If you wish to apply for a Student Officer/Chair position, please visit our applications page here. There is a delegation fee of €80 to be paid by Friday 22nd May 2020. Note that returning schools from abroad will pay a reduced delegation fee of €50. We hope your Model United Nations team will be part of our 2020 conference and we look forward to hearing from you soon.
If you have any questions, please do not hesitate to contact us.
Yours sincerely,
Georgina Theoharopoulou                                             Helen Salter
CSMUN Head Organiser                                   CSMUN Co-Head Organiser
This is a message to CSMUN by the Secretary General of the United Nations, António Gutteres: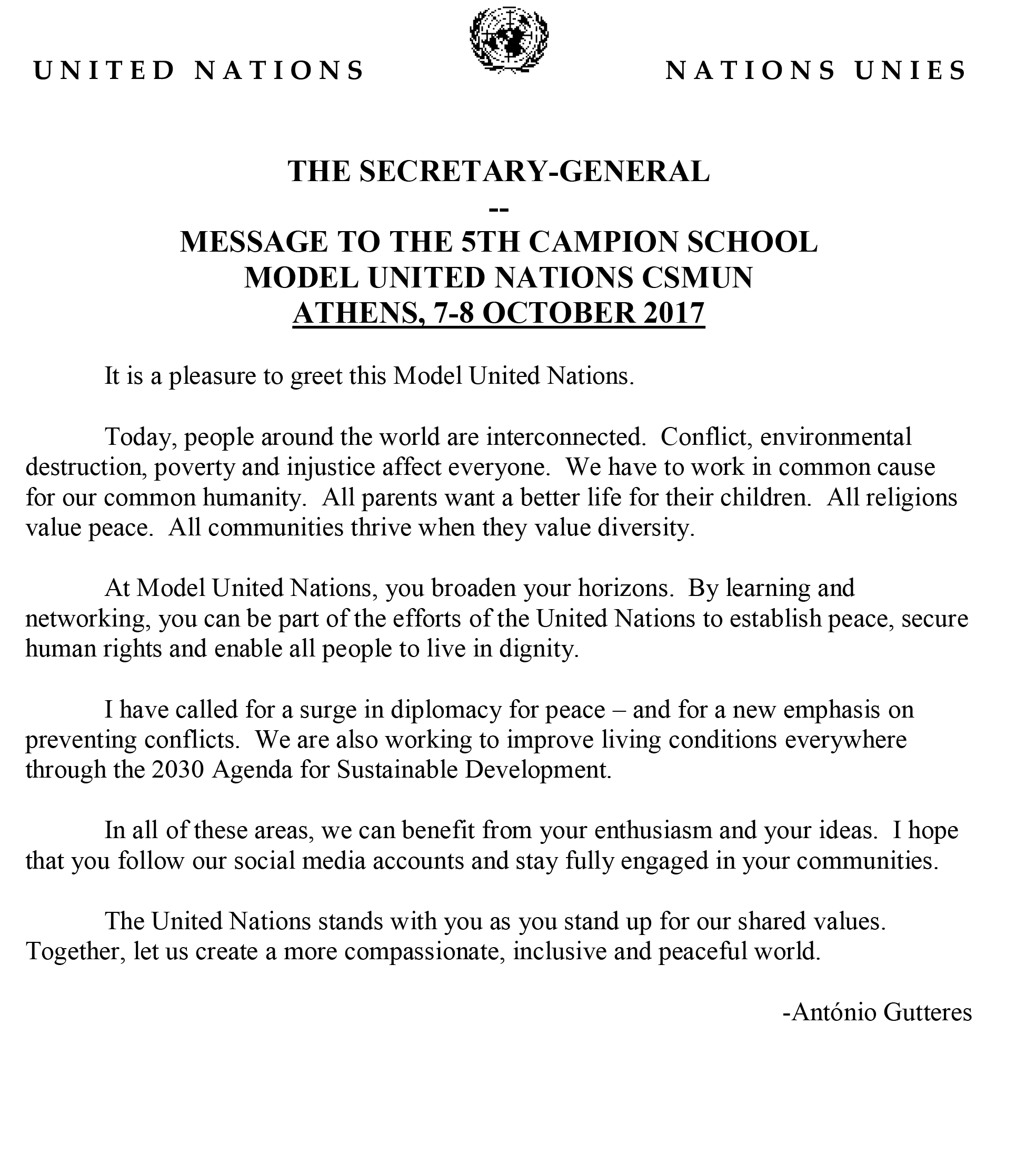 Organising Committee
The Secretariat: munsecretariat@campion.edu.gr
The Organising Team: mun@campion.edu.gr
Head Organiser: G.Theoharopoulou gtheo@campion.edu.gr
Forensics: V.Bodington vbodington@campion.edu.gr